I have been waiting to work with fashion photographer, Erik Branch for a while now but our schedules never permitted until this past fall when I had the opportunity to connect with him.
He asked me what I wanted to shoot and I quickly created a vision board. I contact Genna Yussman Greene for wardrobe & contacted make up artist, Rebecca Renee Rhodes.
The great thing about photoshoots are networking; I had recently worked with Rebecca on another project and asked if she would interested just as I had with model, Magon Faye that we just worked with and amazing model, Olive Flick who I've had the pleasure to work with a few times prior would be perfect models for this collection.
Rebecca had just won a regional make up contest so I knew she would be perfect for creating the make up on both models. She created an exaggerated winged eye with shades of orange and black, strong defined brows and dark, matte lips.
For hair I wanted to create some braids with texture. One thing I like to do sometimes for photoshoots to maximize looks, I'll create asymmetry in the hairstyles so that both sides are different. Ideally the model can change her body position and a second look is produced. Sometimes you have to go where the model's hair wants to go as long as its cohesive with the rest of the style. I wanted some 80's texture so I did some "Rick Racking" (figure 8 wrap hair around a long hair pins) followed by heating up the section afterwards with the Sam Villa Sleekr iron ad allowing to cool. Once removed it creates a really cool, texture that can be brushed and backcombed. I was able to adapt the style from one look to another quickly between takes.
make up and hair on Olive
The above look was the final third hairstyle I had created from Olives hair. At this point the hair had been so manipulated from braiding and crimping. So I created this side look by rolling the hair over and securing with pins. I brushed out her fringe and pushed it to the side and backcombed the ends for a fashionably, disheveled look. To give a tinge of polish I placed to faux pearl hair pins and viola, Olive was ready to rock the camera.
Nothing says classy like a french twist. I created this polished french twist on Magon. First polishing her own hair and to create volume. A directional blow-dry with Redken Guts 10 and a round brush was imperative to create the shape and to create shine. I finished the look with a few textured tendrils (Which I had really played up on Olive for cohesiveness) a swooping fringe adorned and finished with a braided flower.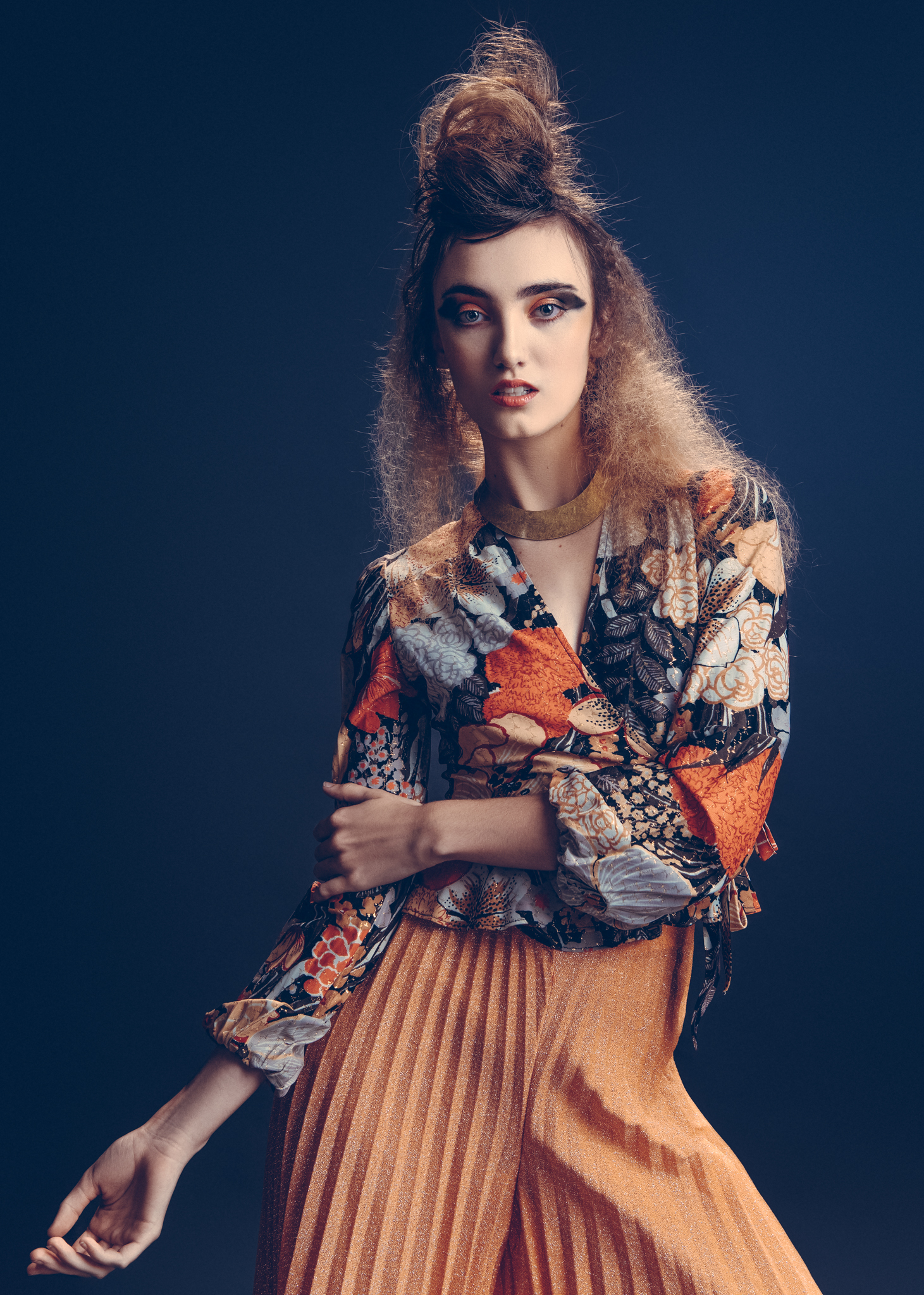 For Magon's next look I did a sectional, I literally created several small ponytails and knotted them together. I fishtailed the hair into a ponytail and left some tendrils around her face.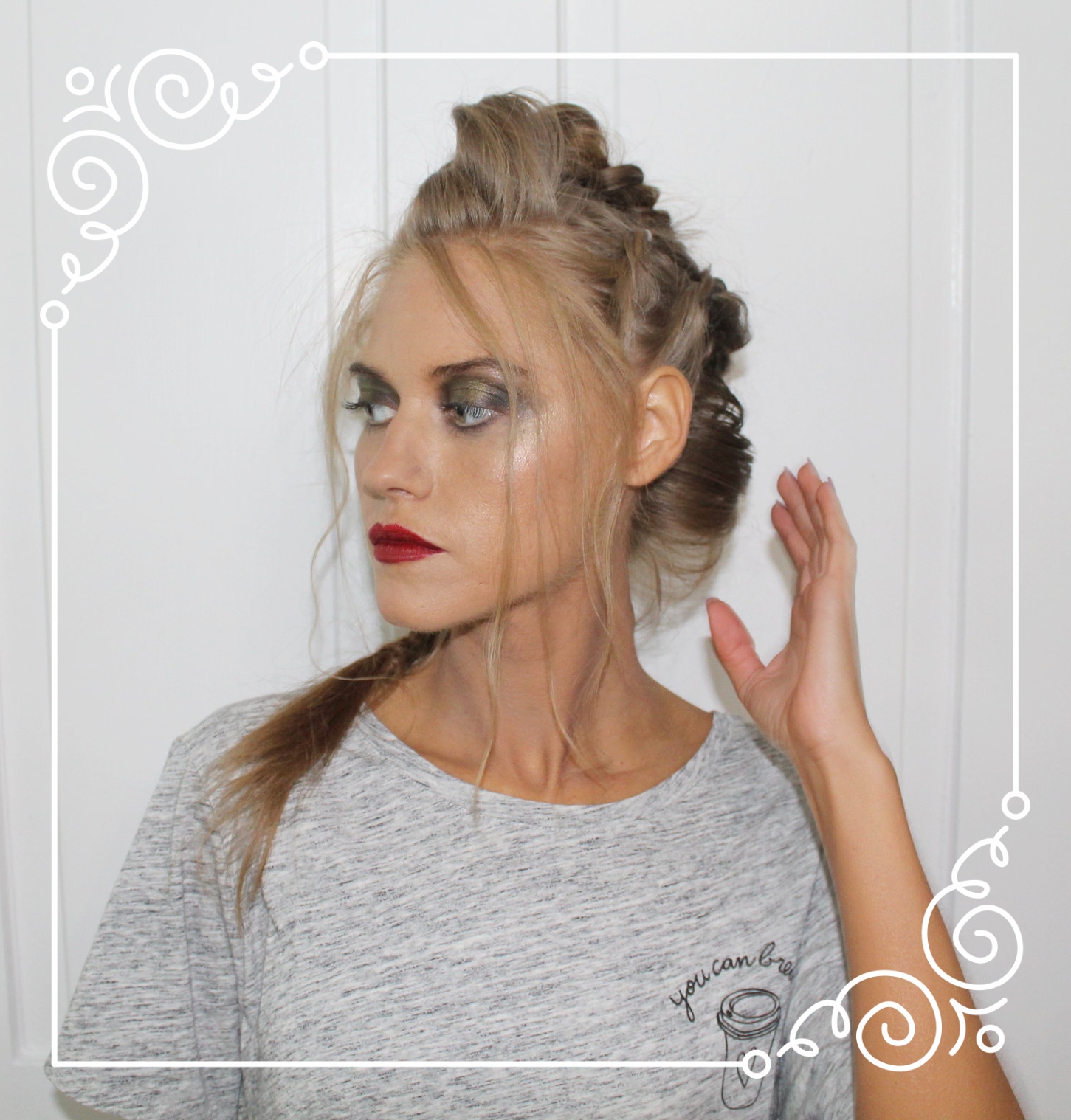 profile of Magon's hair & make up
Erik photographed each model separately as we would readying the model not on set. He did some group shots with both looks as well. We spent around 8 hours prepping models and photographing the models at Erik's victorian home studio in Louisville, KY.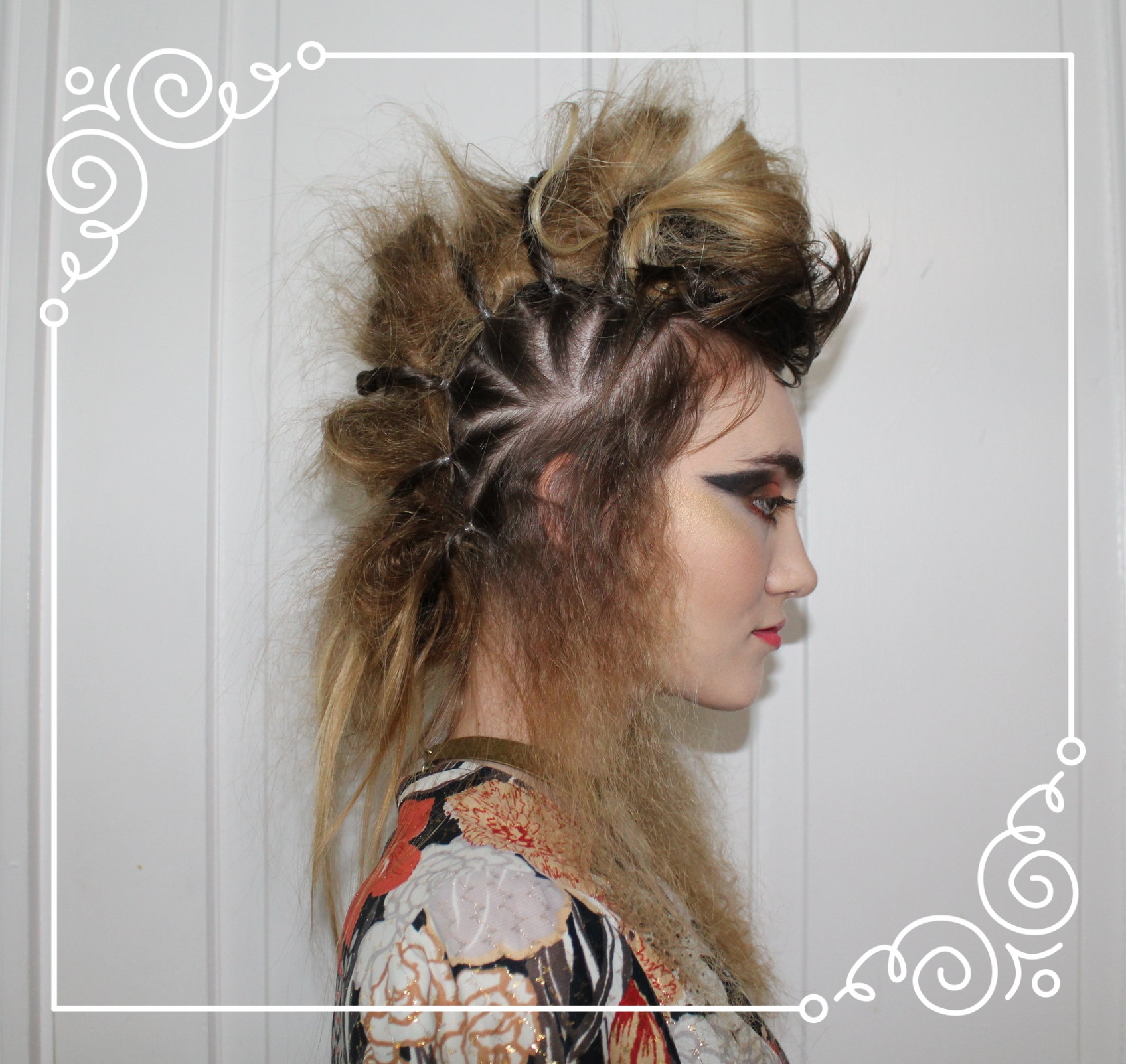 The above look on Olive was created by braiding pie sections and backcombing the rest of her hair onto in a mohawk. To alter her silhouette I took the ends of the braided hair and secured them over the teased, rolled hair.
Erik created two sets. One that was traditional white with bright, clean lighting. The second one was moodier and darker with an almost black backdrop, minimal lighting and some props.
Everyone did a fantastic job on set and the final images spoke for themselves. We were so honored to get published in the November 2018 of Beau NU magazine featuring the collection in a seven page spread. Thank you Beau NU.
Credits
Model | Magon Faye @model_magonfaye
Model | Olive Flick @_oliveflick (Heyman Talent Agency)
Photography | Erik Branch
Wardrobe | Genna Yussman Greene @gennayussman
Make Up | Rebecca Renee Rhodes @porcelain_kween
Hair | Matthew Tyldesley @hairbymatt