I am a busy body and always have been. As far as I can remember I can never sit still and to this day I like to sit up at night after working at the salon and create and practice on mannequins and custom wig pieces. I can get inspiration from anywhere and I had stumbled across some really pretty shades of teal in synthetic hair from my local hair shop.
I had started to create some braids using the hair and I loved how the ends turned out but had put that aside to create a similar piece for another collection. This sometimes happens as an artist. I knew I wanted to return to this collection but had worked on some other pieces for two other shoots. It had also been a while since i had worked with Isidro Valencia so I knew I wanted him to be in charge of the make up to go with each piece I decided to create.
This look for Abbie was done by using straight kanakalon hair which I meticulously braided. Afterwards the braids were formed into shape and sewn into a headdress.
It took me several weeks with work and travel as priority as I would work in my freetime, in the evenings and on the weekends. I took snapshots with my phone and sent to Isidro to inspire his make up creativity. We would feature this collection in my art studio I shared with Genna Yussman Greene (wardrobe stylist and photo retoucher) at Absolute Studio in Louisville, Ky and Tony Welsher would photograph the collection.
The "Pink Lady" hairstyles is very whimsical, Dr. Seuss like feel with a braided veil to cover Dezaray's face for a dramatic effect. Konakalon Hair was cut into small pieces and fused to a active mesh covered with plaster strips custom head piece. I used matching colored thread instead of elastics to create the braided net veil.
I wanted this collection to showcase braids and feature lots of texture. I created various braids and created form with unusual shapes and hair forms using plaster strips, light weight active mesh. Custom wigs and hair . I kept the shades various hues of "cool" tones and "pastels".
Everything turned out to have a "Space Goddess" feel. I used beads and various hair setting techniques in advanced to set and prep the hair pieces for the day of the shoot. I did have to give my hands a break as the preparation of this took several weeks and several hours of braiding.
I took Custom wigs and stacked them using hair forms to create this look on Tracy. I did a lot of prep work on the wigs such as the twisting and ric-racking technique for texture along with stringing the ends with beads.
This look on Dominique which I later referred to as "The Jaguar" started first from forming light weight wire into a headdress. I used plasters of Paris strips to cover the wire then after drying, painted in acrylic the base to match the shades of hair I was using. It was then covered with the braids and matching konakalon hair.
molding the headdress with plaster strips and wire
Soft lighting was used to enhance the hair and make up but not to overpower. The same cool tones were used in opposing position with gels in diffused tones. Genna provided simple black bandeau tops as to create the perfect canvas to showcase the hair and make up.
For make up isidro decided on two themes: two models were done in avant grade style of make up inspired by his favorite painter, Jackson Pollack. Then the other two models were done is sultry, glamorous make up.
This collection was published in Feroce Magazine in a five page spread. Thank you to Feroce for the feature.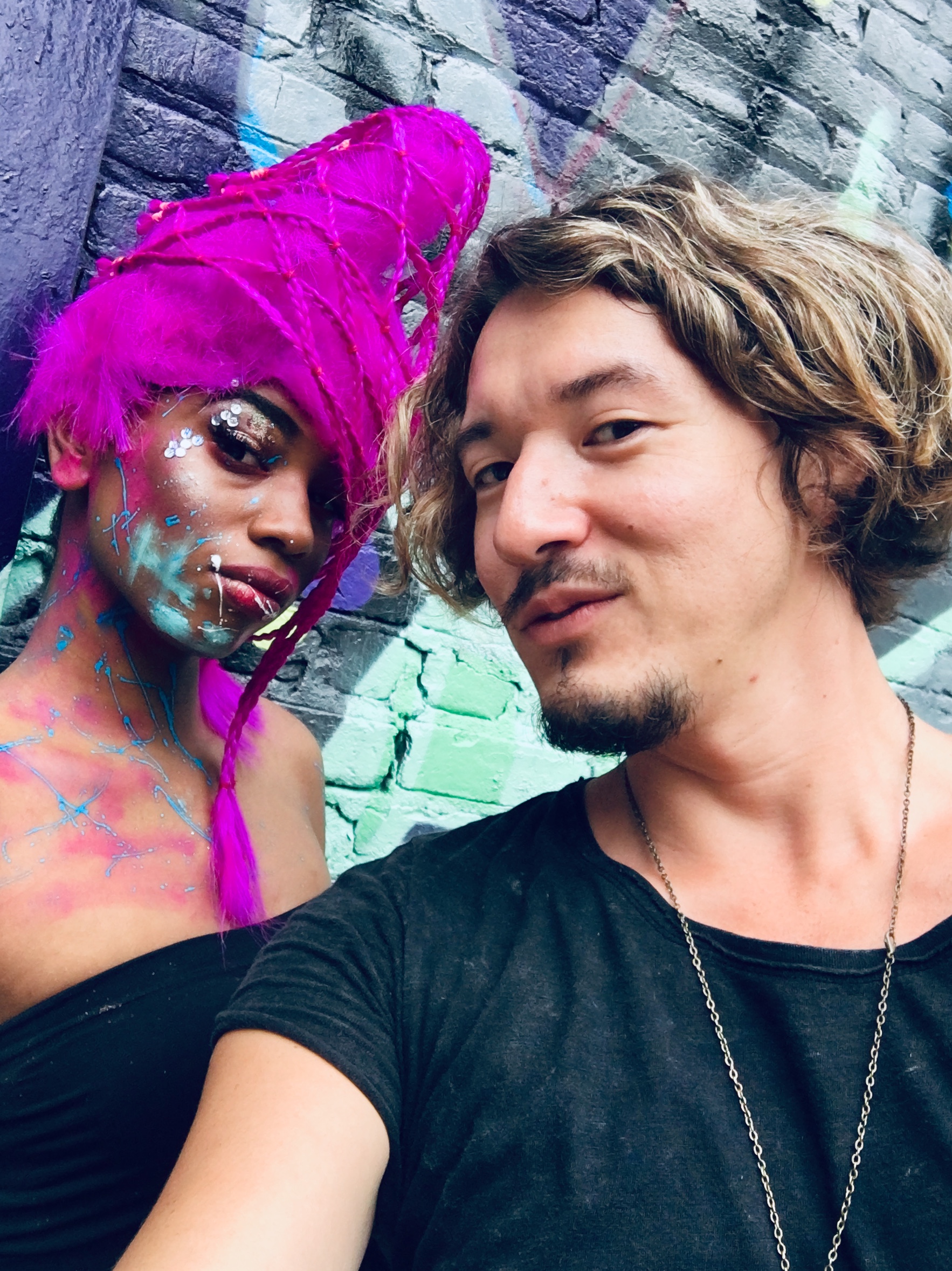 Credits
Absolute Studio
Creative Director | Hair | Matthew Tyldesley @hairbymatt
Creative Director | Make Up | Isidro Valencia @valencia0612
Wardrobe Stylist | Photo Retouching | Genna Yussman Greene @gennayussman
Photography | Tony Welscher
Models |
Dominique Thompson | @so_joyful79
Abbie Purdie | @abbiepurdie
Dezaray Nicks | @dezaraynicks
Tracy Rowlett | @tracy.rowlett