Succubus. Vampire. Demon. Creatures of the Night. Years ago I did a a collaborative series fueled by my love of horror films and halloween. It would exercise my passion for fashion and hair, produce two sequel, involve lots of talented artists, published three times and created an amazing experience. Looking back in retrospect we created a timeless body of work that is worth a revisit….The Succubus Chronicles
The initial collection was conjured together with award winning make up artist, Isidro Valencia and with published photographer, Joey Goldsmith. The three of us discussed our love for all things macabre and dark and wanted to create a serious collection inspired by the folklore of the "succubus". I was responsible with both hair and styling along with creative direction with both Joey and Isidro. We secured three models and got permission to shoot at the historical Culbertson Mansion in Downtown Louisville, Kentucky.
We spent an entire day at the eerie Culbertson mansion with its beautiful construction and full of historical antiques. I was not allowed to use hairspray whatever on the premises as it would collect in the air and unto the vintage heirlooms. That was a fun challenge. I was also in charge of styling and purchased expensive garments from Goodwill of which I paired jewelry and accessories.
Joey did an amazing job of telling a story with the three models we had. He scouted various areas of the mansion prior to setting up lights and for staging every area we utilized. Jacey Calloway was our lead who created the allure and beauty a succubus needs in order to drain the life and energy from her victims. Chris Diaz and Erica Goldsmith play the unsuspecting couple that venture into the home of the succubus. As the night progress so do Jacey's power and both Erica and Chris become creatures of the night.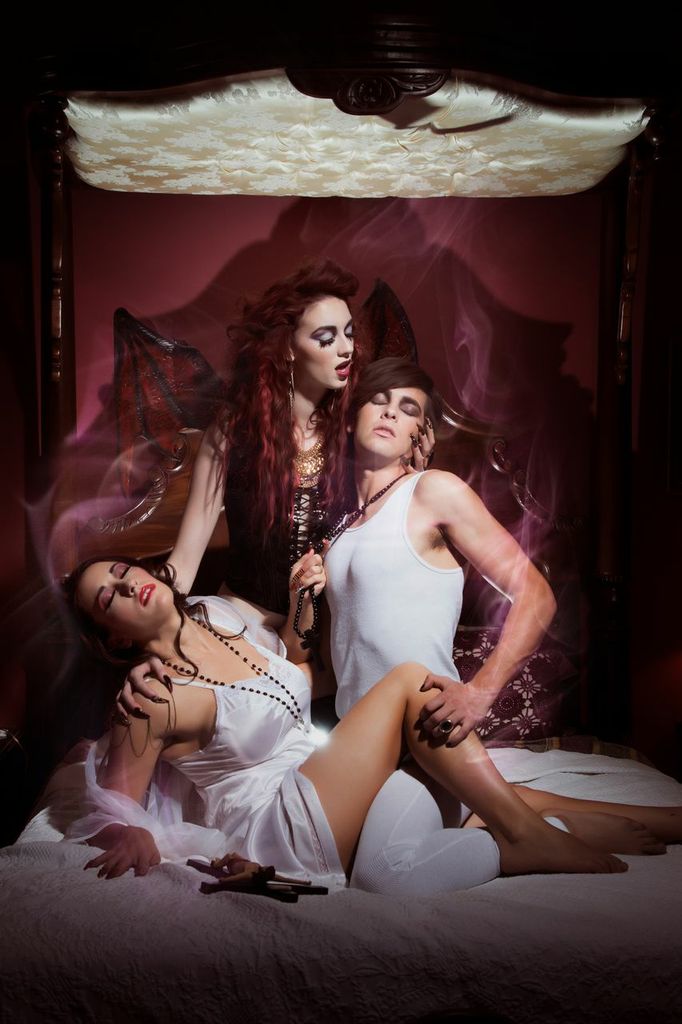 Succubus Origins image by Joey Goldsmith
Isidro created a very clean palette that encompassed the sultriness the models needed but turned it up a notch when the Succubus turned into her dark form. Heavy kohl rimmed eyes and defined brows with lots of contour and red lips. For hair I made a lot of custom extensions but wanted lots of texture with curls and lots of volume. Kind of the old world meets the new world for a timeless feel.
We had custom nails designed by nail designer Maritza Cabalerro and had bts imaged photographed by Gary Barragan. The collection, "Succubus" debuted in Australia's Like a Lion magazine fall issue.
A sequel was brought up a year later and we wanted to go bigger and harder with this one. So many ideas came to mind but we knew the fashions would play a larger role for this and so we asked designer Genna Yussman Greene to create a collection for a follow up to our Succubus. She created a very slick and sexy collection in dark hues of red, violet and black featuring various textures, slim fitting and strategically showed off skin.
We talked about using Jacey as our lead and inviting both Erica and Chris back but needed to up the ante and added two new models, Elora Antunez and John Wells. We split the shooting in two days. Day one was at ThoughtFly Studios and focused more on the artistry of hair and make up and was strictly beauty images. Day 2 was on location in full fashion editorial mode. This way we created two collections with two completely different vibes using the same models.
This time we got permission to use the lovely home of Janice Carter Levitch who had home in the highlands: Old gorgeous home covered with lots of shrubbery, stones and trees. There were lots of areas outside that provided a beautiful landscaped to create the darker world of the Succubus.
We again invited photographer, Gary Barragan back again to shoot bts images and brought in videographer, Blake McGrew who filmed promotional teasers and a small documentary. Maritza Cabellero was gracious again to create new set of nails for all the models to wear.
We spent an entire day (14 hours) staging, prepping models and photographing all models. We were tired but knew we had made magic. Isidro pushed the makeup much more: much darker and harder and I turned up the hair full fashion runway volume with classic waves and vampy curls.
The collection, "Succubus / Incubus" debuted an impressive spread as well as grace the cover of Imperial Magazine's fall issue and our beauty collection, "Succubus: Creatures of the Night" was a Bangstyle exclusive collection.
I am beyond proud of these collections, the amount of work that went into them and the artists that combined their gifts and talents to create these timeless collections.
CREDITS
Photography/Creative Direction | Joey Goldsmith @joeygoldsmithphoto
Hair/Creative Direction | Matthew Tyldesley @hairbymatt
Make Up/Creative Direction | Isidro Valencia @valencia0612
Wardrobe | Genna Yussman Greene @gennayussman
MODELS
Jacey Calloway @hownowmeowcatt
Erica Goldsmith @ericagoldsmithactress
Chris Diaz @chrisryandiaz
Elora Antunez @mermaidqueen25
John Scott Wells @john_scott_well
BTS Photography | Gary Barragan @photobygaryb
Videography | Blake McGrew | Dark Heart Creative @darkheartcreative
Make Up Assistant | Anna Catalina Perez @anacperezhmua
Wardrobe Assistants | Kali Shmuckie | Jamie Boston Guest
Special Thanks to Culbertson Mansion, Like A Lion Magazine, Imperial Magazine, Bangstyle and Janice Carter Levitch, Eric Baker and ThoughtFly Studios.