I was so excited to continue my editorial collaboration with fashion photographer, Jenni Harper Young (Harper Young Photography). This particular collection was inspired by holograms and pastel hair and fashion. Jenni had mentioned wanted to do a photoshoot with models that had blue and pink hair.
She had contacted me later and we started planning this collection. I recommend Genna Yussman Greene for Wardrobe and she wanted make up artist Becca Schell on board. Both of them played integral roles in this fashion collection. Genna had pieced together a wardrobe based on our concept along with accessories. A custom winglet she sewed together using holographic wrapping paper.
For make up Becca used bright pastels creating a beautiful, "doll" like make up. Eyeshadow was placed over entire lid and brow in strong pinks and blues on both models. Baby blue and pastel green lip color with strong baby pink blush with heavy highlighter.
hairstyles varied in length on each model ranging from lock flowing braided looks to short croppy cuts and fringed bobs.
For hair, I created various looks using several wigs. The look below was created using long hair pins that hair was woven through in a figure 8 pattern and heated using a hand held steamer. The hair setting took a couple hours to prep prior to the photoshoot.
Utilizing wigs is efficient for on set photoshoots to drastically change a models look. The prep work is done prior to save time as some of the looks are very technical and time consuming to create. The hairstyle below is an example of one of the looks prepped prior to the shoot using various braid techniques.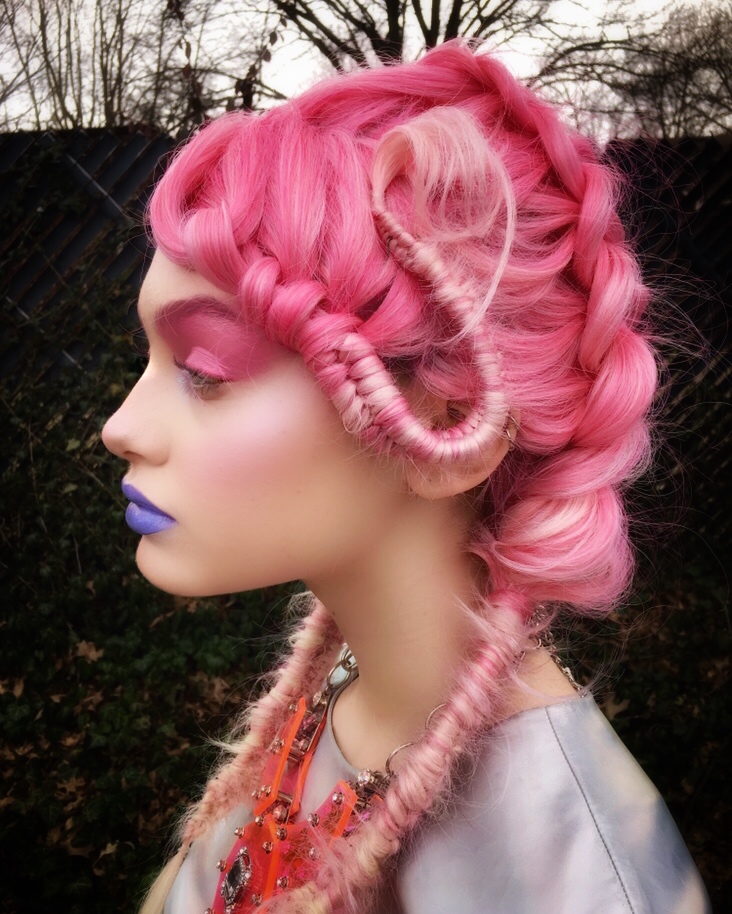 The look below hair netting/hair veil was created using sewing thread and lots of patients. A front lace wig was used to create this look using the front hair line to execute the hair veil.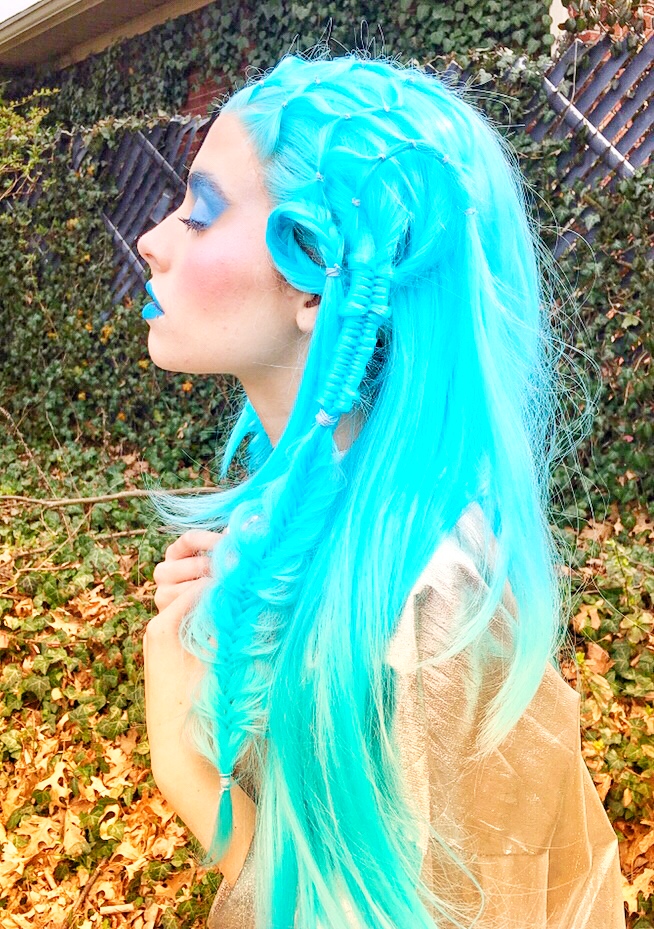 We all worked together to create a total of six looks on two model in eight hours. Genna pieced together a beautiful collection with metallic, textures in various materials in both pink, blue and holographic finishes in booth shine and matte nuances.
Jenni photographed the entire collection that was beautiful published by Elegant Magazine in a nine page spread. We are grateful to them for the feature and to everyone involved in this project.
Credits
Models
Alli Simms | @allisimmsmusic | Heyman Talent Agency
Lilly Smith | @lillylillysmith | Heyman Talent Agency
Photography | Jenni Harper Young @jharrrper
Wardrobe | Genna Yussman Greene @gennayussman
Make Up | Becca Schell @beccaschellmakeup
Hair | Matthew Tyldesley @hairbymatt