Great ideas and concepts can stem from anywhere. Executing the vision ones see in their mind can easily be shared with a group of people who further bring into their own artistic creativity to further bring the vision to life. One of the models, Katya Estes I had booked for a hair collection at Absolute Studio INC. We have worked together several times and she is an amazing muse to channel any look. I asked her to send me the images of which I loved and sent to our team, Genna Yussman Greene and Tony Welscher.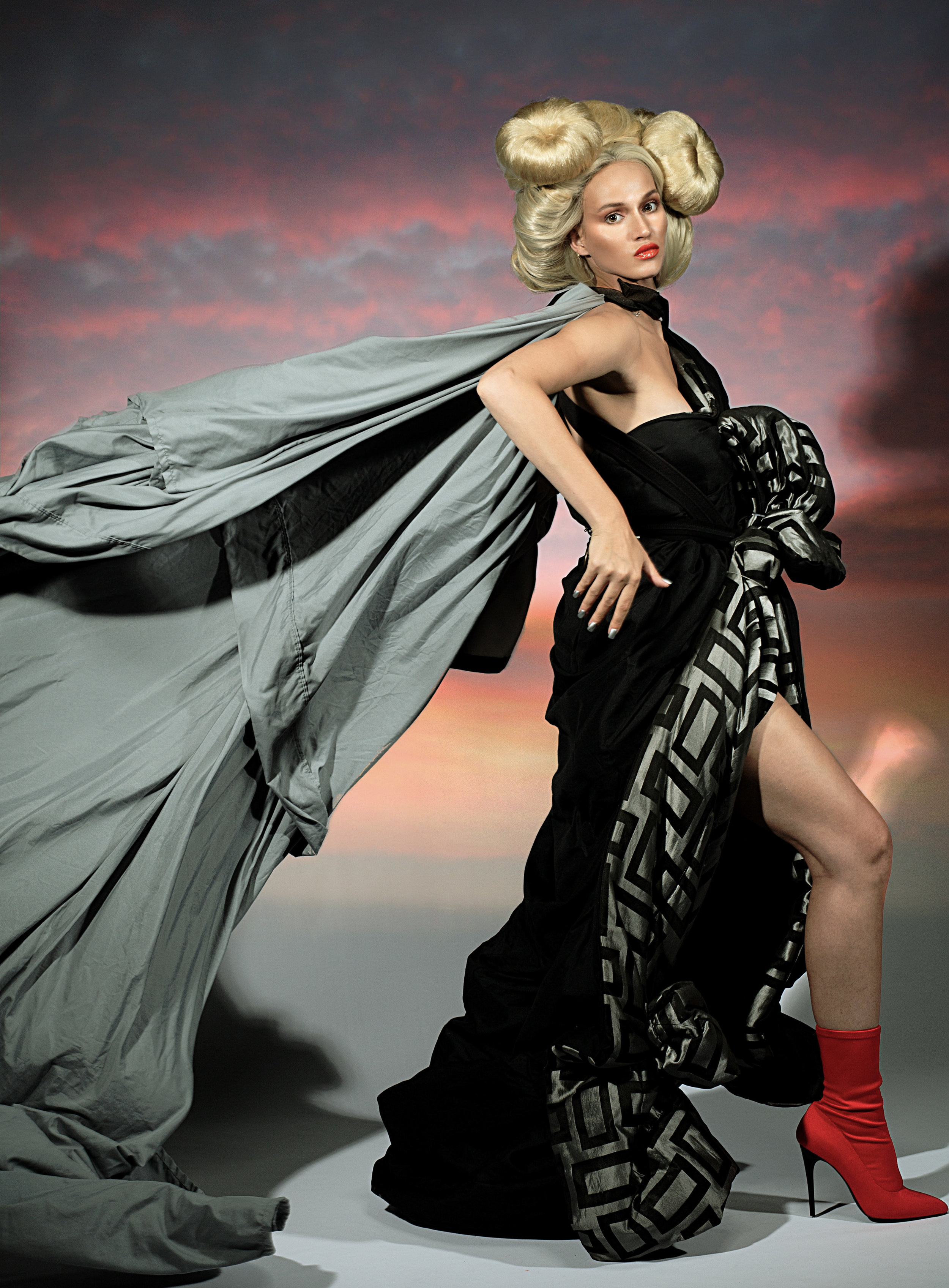 I contacted make up artist, Bethany Hood to do make up. This would be one of our last collection together since she was relocating to L.A. to work on film and sets out there. She gladly agreed to come to the studio and to work on Katya's beautiful face.
What really brought this collection to life was the wardrobe. Genna literally went to Goodwill and purchased used sleeping bags, bed sheets, part of a childs car seat, belts and unconventional items. She literally pieced and draped the fabrics on Katya into three solid looks. This is really what made this collection pop with a Goodwill "Couture" vibe.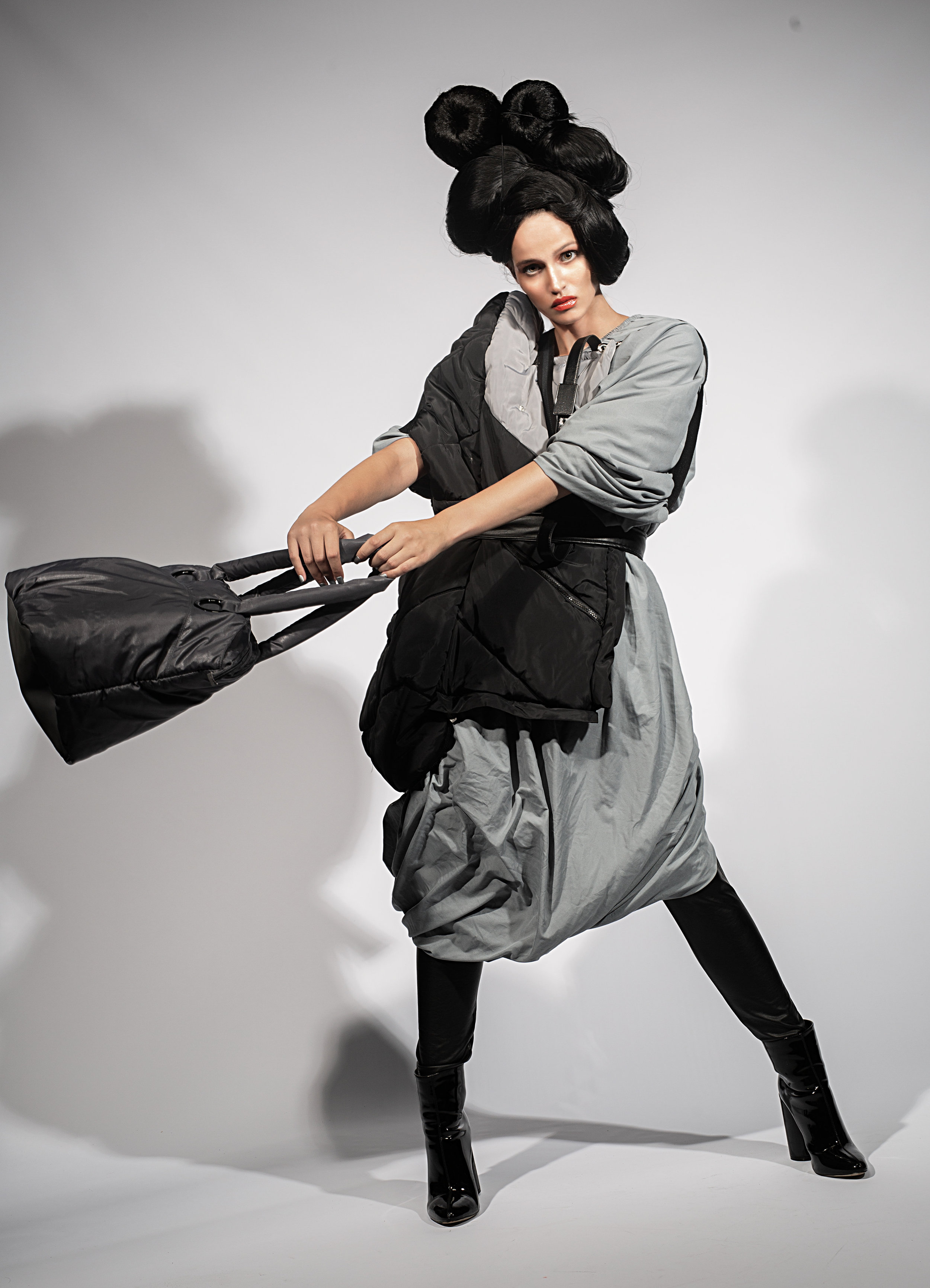 For the hairstyling I created to contrasting looks that swayed to the avant grade; asymmetrical, irregular and gaudy. I basically stacked 2/3 wigs for each look on Katya's head. I first secured her hair to her scalp with braids to created a foundation to support the wigs. I used several round hair pads to create the shape along with Kanekalon braiding hair of which I covered even more of the hair pads and pinned them into the overall shape. Once completed I took black elastic cord and tied it with no rhyme around the entire form. Redken's Control Addict 28 hairspray was a must on set!!
for Make up, Bethany created a very clean, dewy canvas on Katya. Soft defined brows, Shimmer/highlighter brushed crossed both cheeks and eyelids. Soft warm eyeshadow with a tint of orange and a blood orange lip to complete the look.
After shooting, Images were edited by Genna and prepared for publication. You never know how long it maybe for the publication gets excepted for print from any publication but we didn't have to wait long. Elegant Magazine eagerly accepted the collection and it was published in a 7 page fashion spread in the Nov/Dec 2018 issue. We were ecstatic about the release and grateful to Elegant Magazine.
We spent about 8 hours prepping Katya for three looks on set. Tony photographed Katya on a light grey backdrop with overhead lighting to create "Shadows".
Life always throws obstacle in your way…The past year our team worked very hard to produce new materials for 2019. It was so good to finally be able to reveal and release some of the work we worked so hard to create and grateful to all the people involved. It's important in life to take down time, reinvent, rebalance, reflect and celebrate all wins.
Credits
Model | Katya Estes @
Make Up | Bethany Hood @thehouseofhood
Hair | Matthew Tyldesley @hairbymatt
Wardrobe | Retouch | Genna Yussman Greene @gennayussman
Photography | Tony Welscher
In memory of Tony Welscher. He would have been very proud of the work we put out and we will miss him.